What Does The 'Gig Economy' Mean for Your Business?
What is the Gig Economy?
The Gig Economy refers to a labor market where temporary, flexible, and independent work arrangements are common, allowing individuals to take on short-term projects or "gigs" on a freelance or contract basis, often facilitated through online platforms or apps.
The rise of the Gig Economy has disrupted the labor market and created a huge demand for workers. It's not just about driving for companies like Uber or DoorDash, but about working on a flexible basis in all kinds of roles – including professional and white-collar.
Flexibility is the number one driver behind this shift in the workplace. Being able to control when, where, and how they work means workers can manage their own experience, mitigate their own burnout, and make as much or as little money as they care about. This is a workforce that prioritizes work-life balance and autonomy.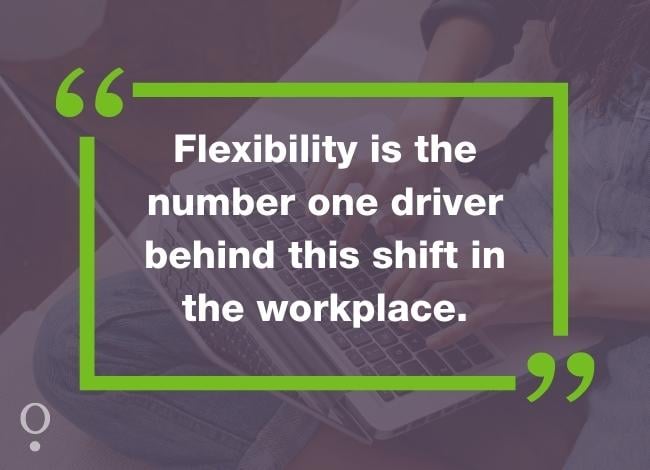 The good news is that this helps organizations to better compete in an increasingly volatile economic environment. In short, the gig economy provides companies with the flexibility to address their talent supply chain needs while also managing their costs. For example, not every work role requires a new full- or part-time employee; many can be filled on a per-shift or per-job basis without having to worry about complications like benefits that may not be of interest to the gig worker.
Indeed, this can be a win-win in the right circumstances: the gig worker earns a higher hourly rate and controls their own schedule, while the company avoids unnecessary overhead and labor expenses. It can also speed up the rate at which open positions can be filled and makes replacing workers who move on to other jobs easier.
Things to Consider when leveraging the Gig Economy
However, most employers are largely unprepared to leverage this workforce at scale.
It requires employment and workforce models that align with how the gig economy works, and that model must be supported with the right tools. For example, do your HR teams have the necessary technology to be able to schedule work on a per-shift or per-job basis on a large scale? How do you communicate with this workforce about open roles and then schedule workers? Can you integrate that system with existing time, attendance, and payroll systems to avoid creating double work or potential errors?
It's also very important that organizations understand the legal and compliance-related implications of the gig workforce. It can be easy to classify these workers as contractors but then treat them as employees. That's a compliance minefield. As you design workforce programs to leverage the gig workforce, take care to classify these workers appropriately.
4 Tips for Hiring Gig Workers
Develop a thoughtful strategy for integrating gig talent into workflows by defining clear roles and responsibilities.
Assign a dedicated person or team to manage gig workers.
Update recruitment channels to attract gig workers.
Prioritize flexibility and autonomy when developing employment programs for gig workers.
Incorporating gig workers into your business model can provide a valuable competitive edge, but it can also present challenges for those unfamiliar with the unique considerations and legal requirements that apply to these types of arrangements. At CoAdvantage, we specialize in helping businesses navigate these complexities to ensure that they can leverage the full potential of the gig economy while mitigating risks and ensuring compliance.
Whether you're looking to augment your existing team or build a flexible, scalable workforce, our expert advisors and comprehensive HR solutions can help you achieve your goals. Contact us today to learn more about how we can help your business capitalize on the opportunities of the gig economy.