HR Outsourcing: How a PEO Can Help Real Estate Services
The real estate and construction industry is growing fast – while facing a shrinking pool of available workers.
Specifically, according to the U.S. Bureau of Labor Statistics (BLS), the growth rate for job roles throughout the real estate sector – from brokers and sales agents through construction laborers and managers – is outpacing the average for all occupations. Commensurately, the unemployment rate in this sector has plummeted just this year, hitting 4.4% in May 2018. With an industry seeing tremendous growth even as the available pool of potential employees shrinks, employee recruitment and retention is critical to future success.
Additionally, the education, accreditation, certification, and licensing requirements often required in real estate roles puts a further pinch on recruiting. Then, consider that Baby Boomers are aging out of the marketplace, but Millennials appear to consider real estate as a less appealing industry, according to Deloitte.
In addition to helping with all of the above, a Professional Employer Organization (PEO) can partner can oversee and help monitor all of the employee-related regulatory and compliance concerns involved, such as necessary licensing and training tracking, wage-and-hour laws, non-discrimination laws, safety issues, and so forth. Real estate faces stringent requirements from the Occupational Safety and Health Administration (OSHA).
Further, real estate is an industry being quickly disrupted by new technologies. Artificial intelligence, automation, chat bots, robotics, Big Data, augmented and virtual reality (AR/VR) are all making inroads to this age-old sector. Collectively, these disruptions are raising strategic HR questions around workforce needs.
What can a PEO do to help?
A PEO partner can help organizations in this industry navigate change while keeping costs low. This is particularly vital for smaller organizations that may struggle to compete with larger institutions in compensation.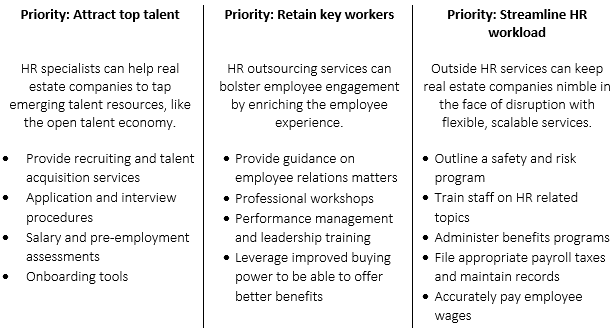 What should you look for in a PEO provider?
Seek out a HR services provider or co-employer (like CoAdvantage) with experience working in the real estate industry. First, you want a provider who has extensive expertise with staffing and labor issues, since that is one of the major HR challenges in real estate. Second, you need a provider who can help your company nimbly adjust to changing conditions, be they seasonal, economic or strategic. Real estate is fast-moving, and your provider must be able to keep up with the times.
How should you prepare for a PEO partnership?
Understand your HR needs and how they could change with future growth. Ask yourself:
How dependent is your company on the expertise and service of key employees?
How is your company addressing changing regulatory rules when it comes to funding, privacy, and finances?
What safety issues/requirements and other risks affect your organization?
How much do labor, compliance and transactional HR requirements draw you and your staff away from strategic initiatives?
CoAdvantage, one of the nation's largest Professional Employer Organizations (PEOs), helps small to mid-sized companies with HR administration, benefits, payroll, and compliance. To learn more about our ability to create a strategic HR function in your business that drives business growth potential, contact us today.