HR Outsourcing: How a PEO Can Help Businesses in IT
Information technology (IT) is booming.
The IT sector represents a quarter of the S&P 500 index, with growth forecasts at 5% globally – and possibly pushing as high as 7%, reports CompTIA. IT spending is expected to hit $4.8 billion in 2018.
But with robust growth and spending come significant challenges. For IT, staffing is a perennial problem. Unemployment in the U.S. is already near a historic low (4.1%), with additional staffing shortages that affect IT in particular. Skilled workers in cyber security, data analysis, and specialized areas like blockchain are rare. Forbes illustrates this point with a telling example: one hiring manager was forced to repeatedly reduce job requirements and increase salary offering over the course of 8 months just to find a new security analyst.
What can a PEO do to help?
A PEO can bring labor costs down while saving business owners significant amounts of time. This is particularly valuable for small IT businesses, which often lack the capital and staff to absorb mounting costs.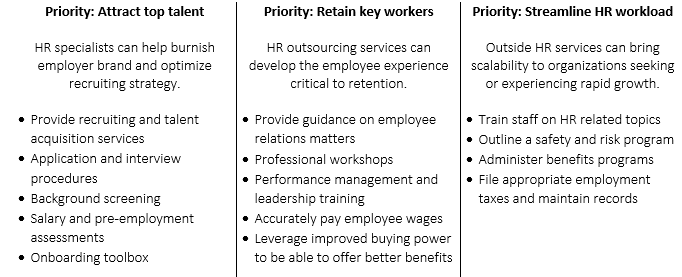 Another overlooked way in which PEOs can help IT organizations: successfully balancing short-term needs against long-term goals. For example, when do you hire the person in front of you because you desperately need to fill the seat, and when do you wait for just the right hire for long-term success?
It's equally important to remember that HR does far more than just recruiting. For instance, professional HR specialists can help IT companies to avoid some of the HR nightmares that have plagued other major technology-oriented companies. For a sampling of tech companies that really should have invested in HR, click here. In some cases, HR issues for technology companies have resulted in 9-figure settlements (e.g., Uber); in other cases, HR issues have forced businesses to shut down entirely. HR is critical to long-term success.
What should you look for in a PEO provider?
Seek out a HR services provider or co-employer (like CoAdvantage) with experience working in the IT field. These expert partners will be much better suited to your needs: they'll already have specialized experience dealing with labor issues, including documenting foreign workers, and they'll be better positioned to help with staffing issues.
How should you prepare for a PEO partnership?
Understand your HR needs and how they could change with future growth. Consider:
How dependent is your company on the expertise provided by specific individuals, and how would their loss impact your business?
To what extent do you utilize foreign workers brought in with H-1B or similar work visas?
How competitive are your benefits packages?
To what extent are you or current HR staff drawn away from strategic initiatives just to handle compliance issues and transactional HR?
CoAdvantage, one of the nation's largest Professional Employer Organizations (PEOs), helps small to mid-sized companies with HR administration, benefits, payroll, and compliance. To learn more about our ability to create a strategic HR function in your business that drives business growth potential, contact us today.