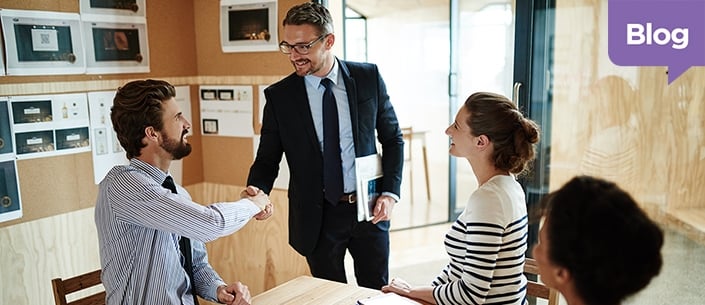 Outsourcing Benefits: What to Expect From Your Provider
Benefits outsourcing can be a wonderful way for businesses large and small to offer top quality benefits on a limited budget, but many organizations new to the Professional Employer Organization industry don't know what to expect from their PEO provider. As one of the nation's leading PEOs, CoAdvantage, is no stranger to businesses who are unsure how benefits outsourcing works. Here are our top three frequently asked questions.
How does outsourcing benefits help employers?
Offering better benefits means organizations can attract better employees and retain them longer. Nearly three-quarters (72%) of respondents are having difficulty hiring qualified employees, according to the Goldman Sachs & Babson State of Small Business in America 2016 report. Offering the best benefits can give employers a solid edge in solving that problem.
Through a benefits provider, small businesses can gain access to enterprise-grade benefits and large group health plans that they might struggle to otherwise access or afford on their own. Further, they can leverage extensive expertise they don't possess in-house. MetLife's 14th Annual U.S. Employee Benefit Trends Study found that use of third-party firms improves benefits planning (69%), implementation (69%), and communication to employees on what their benefits cover and include (71%).
What does benefits outsourcing include?
Benefits can incorporate as much or as little as the client wants. The outsourcing company or PEO will typically administer all aspects, including enrollment, compliance, eligibility oversight, claims management, and offering online self-service tools for both employers and employees. From there, benefits can include:
• Large group medical benefit plans (ideally with multiple options)
• Vision benefit plans
• Dental benefit plans
• Supplemental benefits like short-term disability, life insurance, accident insurance, etc.
• Flexible spending accounts
• Retirement planning (e.g., 401(k) plans)
What can employers reasonably expect after outsourcing benefits?
Decreased turnover: MetLife's employee benefit trends study discovered an interesting alignment between a pair of findings. Only 48% are satisfied with the benefits they receive through their employer; simultaneously, only 45% of employees say they are planning to be with their employers in 12 months. It's clear that offering better benefits eases retention and turnover concerns. The National Association of PEO's 2016 State of the PEO Industry report found that "the employee turnover rate for PEO clients is 10 to 14 percentage points lower per year than it is for comparable companies in the U.S. overall."
Decreased costs: Through outsourcing, businesses gain access to better benefits at lower costs than they could acquire themselves, and at much lower cost than trying to handle these functions in-house. Further, PEOs can consolidate and flatten an array of benefits-related costs into a single condensed expense.
Improved productivity: 78% of employers offer benefits to increase employee productivity, according to the Wells Fargo 2016 Employee Benefits Trend Study. It makes sense: half of respondents to MetLife's study said that benefits ease financial and health worries. By easing those concerns and improving employee satisfaction, employers can get more and better-quality work out of their people.
Need more information on employee benefits? CoAdvantage, one of the nation's largest Professional Employer Organizations (PEOs), helps small to mid-sized companies with benefits, payroll, compliance, and HR administration. To learn more about our ability to create a strategic HR function in your business that drives business growth potential, contact us today.