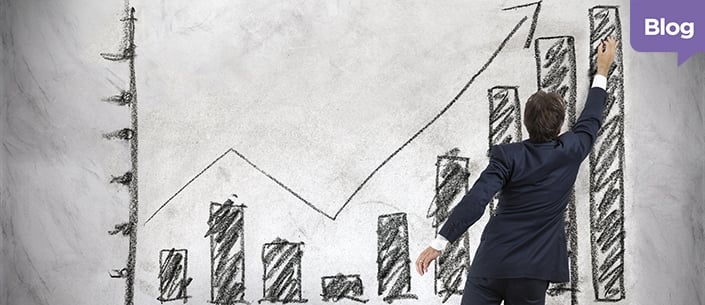 The Impact of PEOs on Business Growth Potential
Professional Employer Organizations (PEOs) are for more than just employees. PEOs are designed to get employers out of the employer business, so that business owners and executives can focus their energies entirely on core, revenue-generating activities. But with the emphasis on transactional and legal responsibilities, it's sometimes easy to forget the business outcomes that PEOs can help produce.
In its 2016 "State of the PEO Industry" report, the National Association of Professional Employer Organizations (NAPEO) cites research that PEO clients grow faster than average.
Specifically, the report notes employment growth at PEO clients outpaces (non-farm) U.S. employment overall. The effect is particularly strong at small businesses.
A related, dramatic finding in the study shows businesses that used PEOs for at least four quarters are "approximately 50% less likely to go permanently out of business from one year to the next, compared to the overall rate for similar private businesses in the U.S."
How can the use of a PEO be related to these kinds of outcomes?
Remember, it's easy to get lost in the weeds when thinking about, discussing, or looking at PEO services. We talk about specific service functions, like benefits administration or compliance, and it's easy to forget all of this is part of a bigger picture where the benefits of using a PEO stack on top of each other.
As soon as you get out of the "employer business," several things happen. For example, you have access to HR experts that can assist you in best practices with hiring and firing decisions, helping to minimize potential mistakes that lead to costly litigation. Additionally, you gain access to economy-of-scale service delivery. This can be particularly impactful for smaller organizations, who will now access enterprise-grade benefit plans and options. In addition to being more cost-effective and robust, such benefits can attract better talent to businesses competing against larger organizations for great employees.
Furthermore, the impact from reduced turnover due to improved hiring practices and benefit offerings is impressive. According to NAPEO, PEO clients experience a 10 to 14 percent lower annual turnover rate than US businesses overall.
Altogether, the end result is time and money freed for business owners and executives to re-invest in the business itself. Specifically, not only can they focus more exclusively on revenue-generating activities, they have more time available to them, enabling better and more ambitious initiatives – and then they have more and higher quality staff to implement those initiatives. That's one example of how the benefits stack on top of each other.
Remember, an investment is putting time or money into an enterprise in expectation of a return or payoff. The more resources business owners can invest, the better the returns from their efforts. Fundamentally, that's what a PEO gives its clients – and that's why PEO clients see higher growth and success rates.
Need more information on strategies to reduce turnover and drive growth? CoAdvantage, one of the nation's largest Professional Employer Organizations (PEOs), helps small to mid-sized companies with HR administration, benefits, payroll, and compliance. To learn more about our ability to create a strategic HR function in your business that drives business growth potential, contact us today.
*NAPEO